Poetic Metal
As a career graphic designer and lifelong poet, I am an interdisciplinary artist drawn to the craft of art jewelry for its power to communicate. In my metalwork, I combine original verse, precious metals, and old-world goldsmithing techniques to express contemporary feelings of isolation, loss, and existential dread.
selected works
---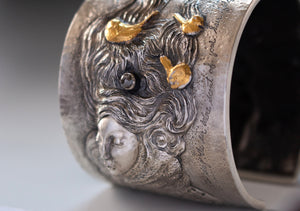 Existing in an altered reality. Cuff Bracelet, 2023
The end times ushered on an asteroid. Cuff bracelet, 2022
I wondered if we were all ghosts
how and when to buy
Teresa Kiplinger releases limited collections of one-of-a-kind pieces several times per year on her website. Release dates are announced a few days in advance of availability on her Instagram and via email. Sign up for her email list or follow her on Instagram to receive updates about new work and upcoming collections. Tap here for more information.